Mill Ridge Farm
Raising & Selling
Racehorses since 1962
Founded in 1962 by Alice Chandler, Mill Ridge Farm has a rich history of raising and selling some of the best-thoroughbred racehorses in the world.
You cannot discuss Mill Ridge and its 50 years of existence without mentioning those that have contributed mightily.
---
Mill Ridge was started by Alice Chandler in 1962 and had been raising and selling racehorses in Lexington, Kentucky, ever since. From riding her pony through her father Hal Price Headley's Beaumont Farm as a child to being one of the most recognized women in American horse racing, her horsemanship, passion, and stories are second to none.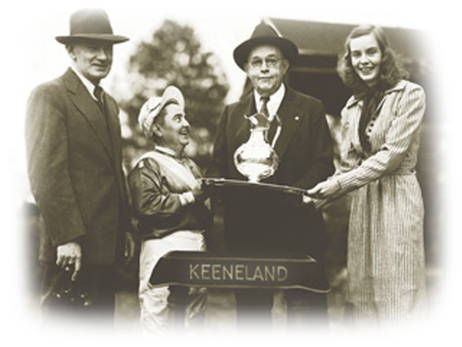 Alice and her father Price Headley after Pellicle wins The Keeneland Special in 1946, with Leigh Cotton and George Stoute.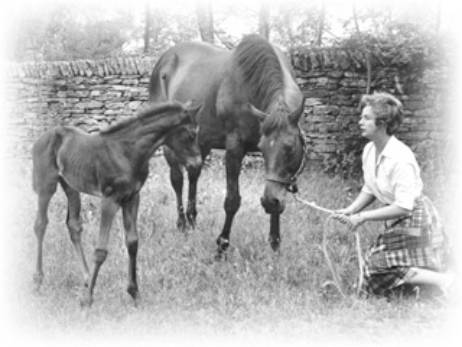 Alice visits Hipparete with Out Talk at Beaumont Farm, 1963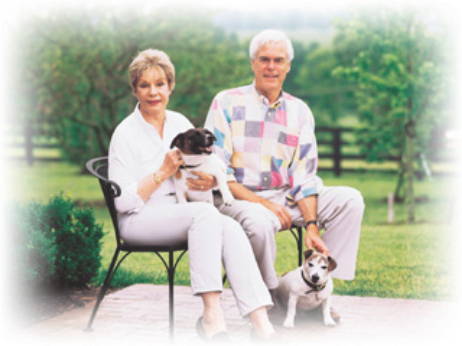 Alice and John with Millie and Fast Eddie
Inspired by her father, a recognized community leader, accomplished farmer and a renowned horseman, Alice's love for horses began early. Upon his death in 1962, Hal Price Headley left Alice four mares and 286 acres of Beaumont Farm, which provided the foundation of Mill Ridge and the opportunity to follow her heart. Her father's influence as a breeder remains strong, notably through his champion Alcibiades (dam of champion Menow). Yet, it was another descendent of Alcibiades that put Mill Ridge to the front of the commercial breeding industry.
In 1968, Alice became the first American woman of breeding an Epsom Derby winner, just five years after founding Mill Ridge Farm. This established the farm as an international source of top-class performers when Sir Ivor became the first American-bred sold at public auction to win the Epsom Derby. Attica, Sir Ivor's mother, was a descendent of Alcibiades and one of the original mares given to Alice by her father. Sir Ivor was sold at the 1966 Keeneland July sale for $42,000 to Raymond Guest. His influence started the trend of American-bred European classic winners. It was a major turning point for Keeneland and the U.S. commercial market, as foreign buyers now travelled to America to buy classic winners.
Alice Chandler received the 2009 Eclipse Award of Merit for her lifelong contributions to the Thoroughbred industry and in 2020 was inducted into the National Museum of Racing and Hall of Fame. She has served as chairperson of the University of Kentucky Equine Research Foundation, president of the Kentucky Thoroughbred Association, a director of the Breeders' Cup, Keeneland Association, Thoroughbred Owners and Breeders Association; and a member of the Equine Drug Council and the Gluck Research Center. The 2006 Kentucky State Senate recognized Alice for her lifelong dedication to the community and the equine industry.
Dr. John Chandler moved to Lexington from his native South Africa, with a brief stop in Newmarket, in 1966. An internationally recognized Veterinary practitioner, John first met Alice while making rounds with Dr. Ed Fallon. At that time, Alice had about 80 mares and handled all the teasing, foaling, and care with eight other employees. Alice and John married in 1970, and together they instilled Mill Ridge's best practices with their loyal team, a framework that our clients have grown to expect as 'the Mill Ridgeway.' John has served as president of Juddmonte Farm's U.S. operations since 1982.
Alice's son Headley became Managing Director of the farm in 2008. Taught his trade by his mother, Headley started Nicoma Bloodstock in 1979 as a full-service bloodstock agency. Headley and the Mill Ridge team work daily to ensure our horses receive the best care, with the greatest attention to detail. Mill Ridge residents are given the best chance for success, playing and grazing on Kentucky's best soils. Alice founded Mill Ridge so she could raise and be around her life's passion, the horse. That passion still exists today in our care of the animal and in the results they produce. Promoting, protecting, and raising the horse in the most thoughtful and caring way, is the foundation of Mill Ridge Farm. A soft hand, a watchful eye, and thorough care are the keystones of Mill Ridge's horsemanship. Echoing through all facets of life on Mill Ridge Farm is Alice's life's motto: "Take care of the horse, and it will take care of you
Raising horses in the timeless philosophy of putting the horse first has been successful for our clients for decades.
---
Our success in raising some of the world's best racehorses is founded on time-proven traditions while balanced with modern techniques.
We take great pride in our boarding service; it is the foundation of our farm. Our clients are recognized as family, and we are honored to take care of their horses every day. Our clients' success is our greatest accomplishment, and nothing inspires us more than their horses. Raising horses in the timeless philosophy of putting the horse first has been successful for our clients for decades. The fertile land we sit on supplies the foundation for our horses to thrive, and the results to produce a healthy racehorse are evident.
Since horses are herd animals, they seek comfort and growth in the herd. We believe in ample turnout and are blessed to have some of the best soils and grasses in the region. Our rolling hills and large open spaces promote bone development and competitiveness amongst our crops. True to our roots, we take care of the horse first and know the rest will take care of itself. Our devoted farm staff is supported by the best veterinary care in the country, who have partnered with us since our founding. Our blacksmith team has been with us for over 30 years and is an integral part of making sure our horse's hoof and bone development are on course for a sound and full career.."