Cady Coulardot

Photographer
Age: 21
Where I work: Equine Free Lance Photographer
Favourite Racetrack: Churchill Downs
​Favourite Horse/Horses Currently: Swiss Skydiver, Finnick the Fierce
Favourite Racehorse of All Time: Man o' War
Career Interests: Track Photographer/Marketing Department 
Cady is a writer and photographer based out of Kentucky.   She is an avid horse racing enthusiast and you'll often find her on the backside of Churchill Downs.   She has an eye for capturing the beauty of horses and the bond with their riders.   Each photograph listed was hand picked from Cady's personal gallery.
An enthusiastic individual seeking to better the thoroughbred racing industry by bringing young people into the sport.
Equine photographer specializing in stallion portraits and race day photography.
Who is Cady Coulardot? Some of you horse racing fans may recognize the name. Cady is an Equine Photographer based out of Louisville Kentucky. Cady was brought into the world of horse racing back in the summer of 2017 and hasn't looked back since. Shortly after Cady was introduced to racing her father purchased a percentage of a filly who goes by the name of Maria Rose.
Fast forward a couple of years and Cady had now landed herself a job as a freelancing photographer for Horse Racing Nation, pretty cool right? Since Cady started shooting for Horse Racing Nation this gave her access to many different racetracks throughout Kentucky and Indiana. Cady says, "I love shooting on big Stakes days and constantly looking for the perfect shot".
Taking photos of our equine athletes isn't the only thing you'll see Cady doing on the backside. Cady and her father started their own racing syndicate called "CM Thoroughbreds" with some close friends. So, you'll see her hanging out with some of her own racehorses as well. Cady said, "starting CM Thoroughbreds has been one of the best experiences of my life and has taught me many things". The group purchased their first yearling at the Fasig-Tipton October 2019 sale. The group has high hopes for the newest four-legged friend on the team.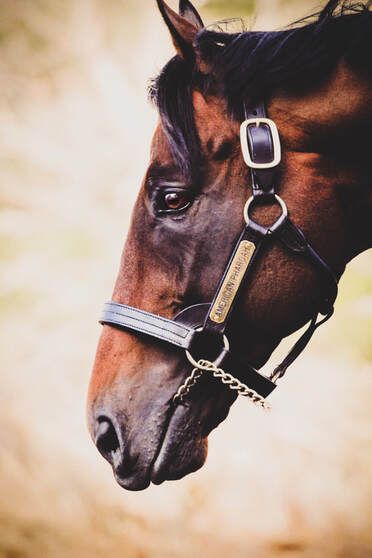 ​Pictured here is your 2015 Triple Crown Winner American Pharoah. This photo was shot by Cady and he just happens to be her favourite horse.