Natasha Day fights stereotypes while chasing her harness racing dreams
The only regular female driver on the southern Ontario harness scene is focused on winning people over one race at a time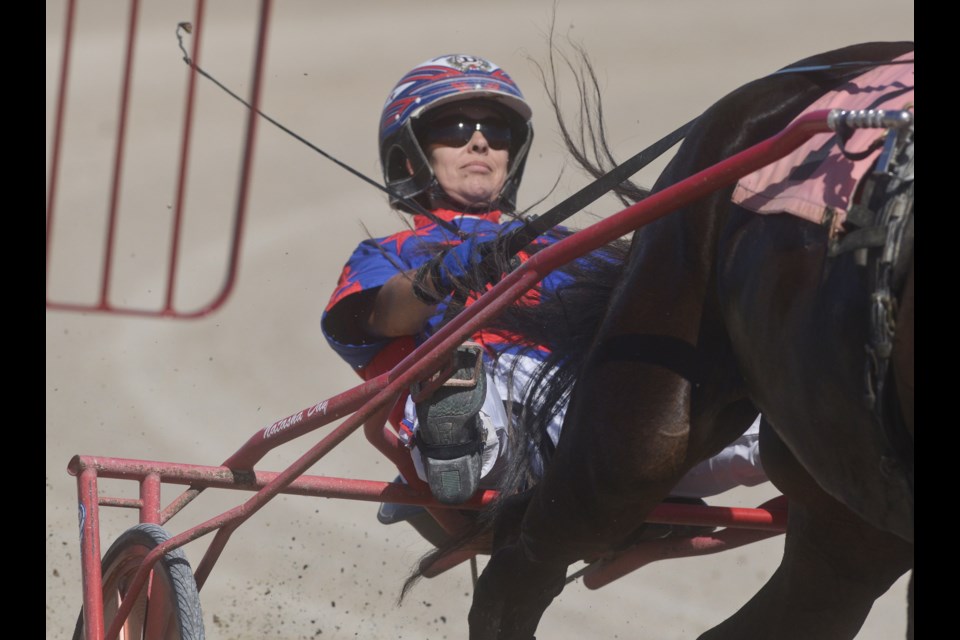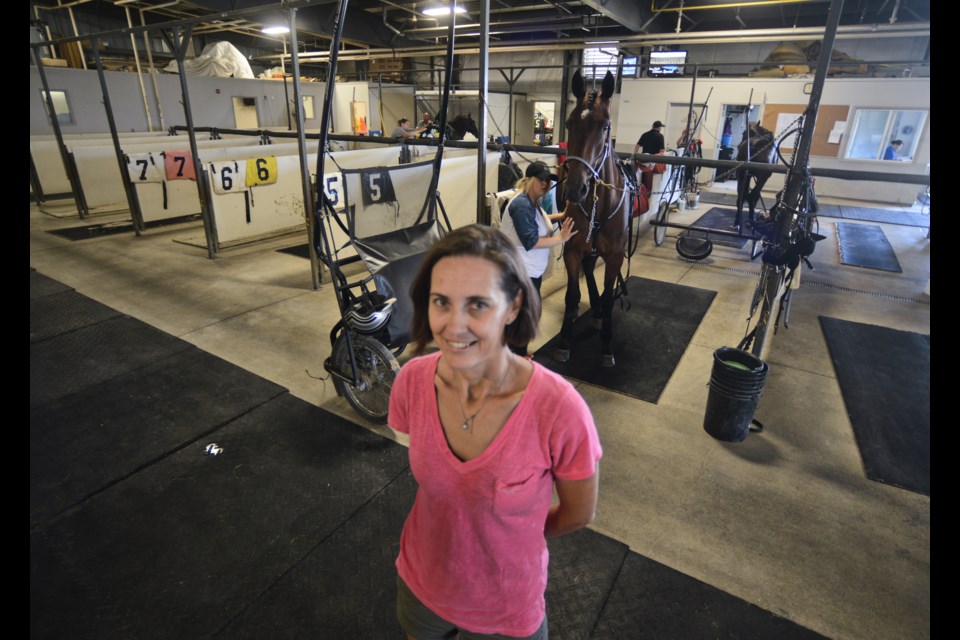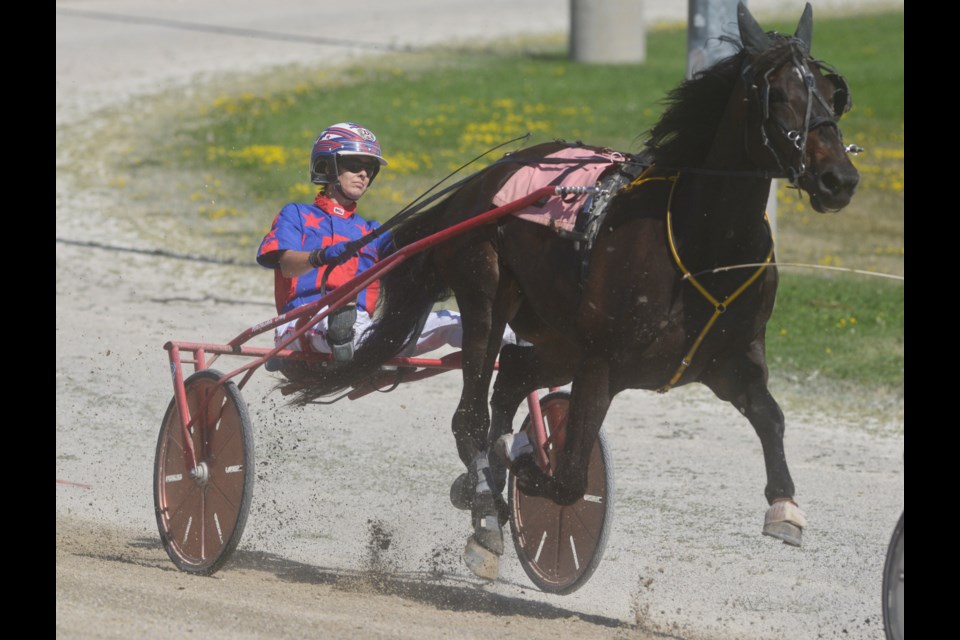 Natasha Day races in a qualifying race at Grand River Raceway recently. Tony Saxon/GuelphToday
Natasha Day knows she if fighting an uphill battle as one of the few women harness drivers in Ontario.
She's new, she's from another country and, most of all, she's one of the few women drivers in the industry and the only regular on the busy local harness racing scene.
A regular on the B circuit, including Elora's Grand River Raceway, Day is just hoping for a break that has yet to come in an industry that doesn't exactly embrace anything new, particularly a woman racing a horse.
"If you're a girl, you're a groom," she said addressing the prevailing stereotype in her thick Australian twang after qualifying a couple of horses on a recent Wednesday afternoon in Grand River.
"People are a little bit shocked when they see you can drive. We had to kind of get people to take notice."
Have things changed in the four years she's been driving in Canada and having some success?
"You'd like to think so, but there's still a lot of ones that are stuck in the dark ages and are very chauvinistic," she said of the industry, particularly the so-called old guard.
She knows a female trainer who was told to 'get back in the kitchen and tells another story of an incident in Clinton where someone loudly criticized the fact a woman was driving a racehorse.
Many of the other drivers "are pretty good and treat me as one of them," she said, although some of the older drivers try and intimidate her on the track.
"They think 'you're a little girl, you shouldn't be out here and it's always the older guys," she said. "They will go out of their way in a race just to beat you and play games with you."
She has raced in over 260 races at various harness tracks this year with about 30 wins. Good but not great. And most of the time those races are on lesser horses and/or at lesser tracks where the prize money is pretty small.
For every big-money race at Mohawk, there are 20 races for a fraction of the prize money in places like Clinton, Hanover, Elora, and London, where drivers are usually only paid when they win: 5 percent of the prize money, which when first-place earnings are $1,000 to $3,500, really isn't that much.
The only way to make it is on many drives and some good horses at good tracks.
Veteran driver Marie Claude Auger is one of the top drivers at Rideau Carleton Raceway in Ottawa, but other than that there are only occasional females in the sulky.
But virtually all of Day's drives this year, around 265 of them, have come on the smaller tracks.
She credits trainer Beck Geisel, who knows somewhat what Day is going through, with helping her get established in the industry.
Getting rides on good horses at top tracks is a tough nut to crack. Most harness drivers have relationships with the trainers that have most of the best horses.
But Day keeps on trying. Driving is her passion.
"I've had a lot of opportunities down there (the United States), but at the end of the day you're still the second trainer on a horse and I just want to get back driving. That's why I decided to come up here and start building up the contacts and show them I can do it."
She will keep trying, driving any and every horse she can.
"You talk to everyone you can and get out on the track and show them what you can do. Nine times out of 10 you drive the worst horse, but you try and finish fourth or fifth if you're lucky and hope next time you get another chance or a better horse."
Day grew up in a horse family. Her dad trained and raced them in Queensland, Australia, and she was the only one of seven children that took a keen interest.
But when local tracks started closing up shop, she started bouncing back and forth between Australia and working in barns in New Jersey, four years ago she decided to make the full-time move to Canada.
"It's big over there, a lot like here," she said of the harness scene in Australia. "But with the tracks closing down near where I lived, I decided to move and try something different.
"I pretty much knew no one. One person maybe."
She cold-called top trainer Richard Moreau and got a job, moving to Cambridge four years ago and starting at the bottom, "cleaning stalls, washing out the water buckets, cleaning harnesses: all the dirty jobs."
That means a day job for drivers that don't get regular rides or win regular money.
Day works stalls and exercises horses in the morning, races at a track somewhere in southern Ontario at night, then has to make sure the horses are paddocked at night. It's a long day and a long week.
"Weekends? I don't know what weekends are," she said.
She's asked if she's ever had moments where she wondered if it was worth it.
"Every day," she quipped, before adding "did I say that too loud?"
So what keeps her going?
"Money. Money and the hope that one day you get on that good horse or pick up that one good trainer who will give you a shot and has a stable of horses."
Getting people's attention and earning their respect is a long journey. Hard work and success are the only avenues.
"You've got to do it 120 percent. You've got to go above and beyond and do it until you're almost dead and then maybe people start taking notice," Day said.
"You've got to let your driving do the talking."
Natasha Day is in the driver's seat: Part 1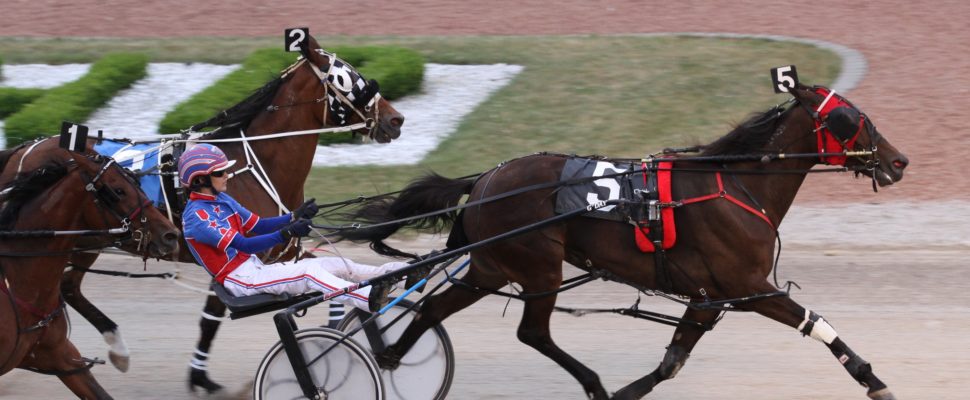 By Chris Lomon
Natasha Day took one look at the flat tire on her race bike, sighed, and figured it wasn't going to be her night. But, as the harness driver showed then, and time and again, it's never wise to bet against her.
She wasn't going to throw in the towel on a rainy night two years ago at Hanover Raceway, a night that began in a deflating manner, literally and figuratively.
At the end of the card, the native of Australia had made a pair of trips to the winner's circle, including a victory with Cold Shadow, a pacing son of Cams Eclipse.
It was, in many ways, a perfect example of how Day deals with adversity on and off the racetrack.
Time for a change
When the local racing scene in the Gold Coast, a city in the Australian state of Queensland about an hour from Brisbane, began to show signs of struggle, Day started looking for other opportunities to continue her involvement in the sport.
It eventually led her to New Jersey, specifically, Freehold Raceway.
"Racing, in my opinion, was starting to come to an end where I lived," said Day. "The track that I raced at the most shut down for the Commonwealth Games. When that happened, I decided to move on to other opportunities. I ended up going to the U.S. for three or four years. I was second trainer for Ross Croghan. I did a little bit of driving, but I was more focused on the training as far as the horses were concerned. I picked up a few drives here and there at Freehold, Pocono, The Meadowlands, Yonkers and the Grand Circuit at Lexington."
Those little opportunities, nine drives in 2012, 28 the following year and 38 in 2015, would eventually pay big dividends.
"I competed in one of those Mildred Williams International races for women and that helped get my name out there a little bit" recalled Day. "It was just hard getting visas to the U.S. and going back and forth to Australia. It's a lot of money. I went home for a year and ended up coming to Canada in 2015, and got a job with (high-profile trainer) Richard Moreau. I thought I'd try it out up here because it's a Commonwealth country like Australia. It was a lot easier in terms of the visas."
It also proved to be a wise career move.
In 2016, Day had 258 starts in the sulky, winning 21 races along with $120,356 in purse earnings.
"I slowly started working on the driving side of things," she said. "I bought my own horse, Beachside Bungalow, when I got here. He helped me put my name on the map a little bit, too. He was a $10,000 claimer. He could get me out there with him and drive, and people would notice me. That was at Grand River (Raceway) and around that area. Slowly, it just progressed from there.
"(Trainer) Becky Geisel, she noticed me the most," continued Day. "I was qualifying one day at Flamboro and she needed a driver. I said, 'I'll do it.' I was there with Beachside Bungalow qualifying and she gave me the chance. From then on, she put me on everything. She really was the one who helped kick off my driving in Canada. She still keeps me on."
Main photo courtesy of Hanover Raceway
Natasha Day came into 2018 off a career year, one in which she notched 47 wins and $228,353 in earnings.
She's also pulling double duty working for Richard Moreau. It makes for long days and little downtime, but Day isn't complaining.
"Basically, I work as a groom for Richard," she noted. "I take care of five horses, six including my own. Every day, just rubbing, getting on the track and jogging a few, training one here and there, paddocking them at the races. I have to fit that in with the driving as well, so it's pretty busy. It can get tiring, but it's been great."
And well worth the challenges she's experienced along the way.
"It took me a little bit to break into the driving side, to get people to take notice," offered Day. "I think it was the end of 2016 and the past year, where it's starting to pick up and people are starting to notice. People are starting to accept me now. The majority of horses I drove in the summer can still compete at Western Fair. It's good for me because the horses are progressing off their races in the summer. I like London a lot. It's a good atmosphere. Western Fair does a great job with their facilities and promotes the sport exceptionally well."
She once again notes Becky Geisel as a major contributor to her success, including the opportunity Day was given to drive on the WEG circuit.
"With the help of Becky and her horses – they are no slouches – they compete very hard," noted Day. "She gave me a couple of drives at Woodbine and Mohawk. It's just the fact of going around and picking up those drives that maybe others won't take. It's about saying, 'Yep, I'll go.' People start to see that and know that you are putting in the time and effort. They'll stick with you when you show that you're willing to drive any horse. Most of the people I drive for are smaller stables. They like the one driver. That definitely helps a lot."
Driven to succeed
So, too, does Day's approach when she gets in the sulky.
How would she describe her driving style?
"It can be rather aggressive," she said with a laugh. "It's a little bit of Australia coming out in me. We drive a little bit aggressively over there. I tend to be a little bit aggressive when I have to be. All is fair in love and war as far as I'm concerned."
With more opportunities to drive coming her way and a career-best campaign as a big incentive, Day is looking to make 2018 her most memorable year yet.
And she's not being conservative as to where she's set the bar.
"I'd love to crack the 50-win mark," offered Day. "If I could crack the 100-win mark that would be even more super. That's my goal this year. I'd really like to get to 100. I got close to 50 wins last season. I was a little bit disappointed. I was stuck on 47. I was bummed about that. I want to take it that next step, getting to 100."
Day isn't the only one who benefits whenever she gets a drive or a win.
"I drive for an organization called Team To The Moon, which is run by Lou and Maria Sorella," she noted. "At the end of the season, team members donate a share of our purse money to help raise breast cancer awareness. So the more drives I get, and possibly the more wins I get, the more I can donate to a great cause that many people have been affected by."
Day's checklist also includes adding a driving title to her racing resume. In 2016, she finished third in the Hanover Raceway standings, moving up to second last year.
"To win a driving title is a big deal to me. It shows that you are consistent all year round," she said. "That means a lot more to me than anything."
Day has no regrets about her decision to leave Australia for the Ontario racing scene.
"It's a long journey, that one," she quipped. "That's a lot of miles and kilometers. Looking back, racing has definitely gone backward where I'm from, so I believe I pulled the right rein there in getting out. So here we are."
What advice would she give to a woman looking to get in the sulky?
"Don't be soft about things," said Day. "If you want to something, you pretty much have to go at it like a bull in the gate. Don't take no for answer."
And don't let anything – not even a flat tire on your race bike – throw you off course.
Main photo courtesy of Flamboro Downs
Natasha Day is in the driver's seat: Part 1
*
AFTER THE WIRE
"In the wintertime, I like to go skiing. That's a bit of fun. Summertime – anything to do with the water. I love to just get down to the water and the beach."
"I love cars and anything to do with car racing. If there's a car race somewhere three hours away, if I get the chance, I'll jump in my car and go."