Announcer Tammaro has tips for betting Sam Houston in 2022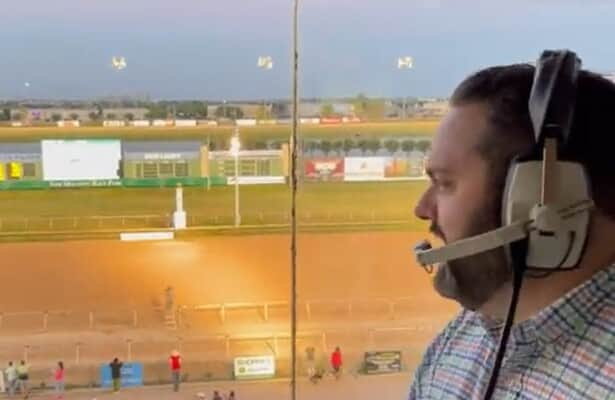 The new voice of horse racing in Houston will not get to add to an impressive record that has given him a claim to fame in the sport.
"No go this year," said Nick Tammaro, who could have spent the last weekend of this month playing in his eighth National Horseplayers Championship in Las Vegas. "Unfortunately no, because the Houston Ladies Classic is on Jan. 30."
Instead of making bets and watching races, it will be the other way around for Tammaro, who begins his first full season calling Thoroughbreds at Sam Houston Race Park when opening day arrives Thursday.
Click here for Sam Houston entries and results.
For years a sales and marketing man who has written more than a few morning lines, Tammaro, 38, already acquainted himself with his new announcing-booth office, calling quarter-horse races there this summer. A native of Houston, he knew his way around the racetrack, handicapping races there for years both publicly and privately.
In a Zoom interview Monday that will be heard in full on Friday's Ron Flatter Racing Pod for Horse Racing Nation, Tammaro offered advice on betting the 50-day meet that runs through April 9 at Sam Houston.
The reputation for the main track used to be that it had a rail bias. That is not the case anymore.
"The dirt has generally been a very, very fair surface. Frank Hopf, the assistant GM, oversees the maintenance and crew that works with the track. There were a couple of times even during quarter horses where I said to him, 'I think the inside might be good.' He was like, 'No, no, no. Just wait, It's fine.' Then it worked out that way. He's hip to it. He knows if it's looking like it's getting one way, I'm going to say something to him. Probably prior to 2016 or '17, you used to see a very pronounced inside bias, and it would be very hard to make up ground around the outside. I think it's been a very, very fair surface for the last few years, and I'm not expecting anything to change on that. As far as track profile goes, I think that's the right approach."
There are only four turf races carded the first three nights. That may make it difficult to get an early feel for the grass course.
"Sam Houston is lauded as having one of the best turf courses in the country, so I almost feel as if I have to explain to the public why we're so light on turf races opening week. We've had about 20 straight days to end the year of 80-degree temperatures. When you're planting winter rye to come in underneath your Bermuda grass, you're not equipped for 80-degree temperatures. The rail is going to be at 30 feet for the first two weeks, and we're going to do one-mile races only with a field cap of eight. Once that's done, I think you'll see two, three, four turf races a night. You're going to see some excellent turf racing. It's a great course. I've heard that from horsemen that have been all over the place."
Hall of Famer Steve Asmussen, who won his 13th Sam Houston training title with 70 wins last year, is expected to dominate again.
"Steve Asmussen is going to come out guns a-blazing. He wins roughly 40-50 races at this meet every year, so it's almost one a day. Prior to 2020, Texas racing was beginning to toil in obscurity. Then an act was passed by the Texas legislature. It's called the Horse Industry Escrow Account. It took money that was previously being escrowed from sales on grain and feed for livestock and diverted it back to the racing industry. All of a sudden the purses at Sam Houston and Lone Star and Retama basically doubled. We went from an output of less than $100,000 a day for Thoroughbred purses to a little over $200,000. Once that happened, a guy like Steve Asmussen started sending actual good stock. Not to disrespect some of the lesser horses, but it wasn't just nickel claimers, right? It wasn't just Texas-breds. Now he started sending real maiden, special-weight horses. He's sending real 'one other than.' When you're running for a 'one other than' purse for almost $40,000, that's not bad. He'll be well-represented opening week and every other night. Karl Broberg has a big barn. You're going to see him start off very well. He is somebody who obviously wins a tremendous amount of races."
Stewart Elliott was the meet's top jockey in 2021. He should be a familiar name again in 2022, but he is not alone.
"He won 62 races last year, and I would expect that he'll be the leading rider. He obviously is the first-call rider for Steve Asmussen. Ry Eikleberry is back. His book is now held by jockey super-agent to the stars Jose Santos Jr. He also has Lane Luzzi and Freddy Manrique, who is a new addition to the colony. I don't know if he'll stay the meet or if he might be riding just until Will Rogers opens. New additions include Gerardo Mora, who is actually a Sam Houston riding title winner from (2013), and Richard Eramia. He has been a really solid rider down in the mid-South for a while. Leandro Goncalves is also worth mentioning. He won at a 21 percent clip and restarted his career last winter at Sam Houston. He's got some mounts for a couple of good barns the first few cards, so I would expect him to win his fair share of races as well."
Do horses based in and around Houston have an edge?
"Horses that have local training, I would upgrade them a little bit. Sam Houston can be a little bit of a horse-for-course type track, so keep in mind that some of these horses, maybe even if their form looks to have slid a little bit since then, take a good look at them. They might have some affinity for that oval, and it's a slightly different composition than you'll get at Lone Star or Remington or Delta, where a lot of these horses are coming from being heavy on Brazos River sand. That's probably the best thing to keep an eye on opening week."
The Houston Racing Festival has two Grade 3 races as the meet's top races Sunday, Jan. 30. The local jockey colony is bound to have strong, incoming competition that day.
"I would imagine that the Houston Racing Festival will get an influx of some of the riders that had been there in the past and some that will come in for the day and ride. We've seen it happen in the past. Julien Leparoux came in last year, won a stakes and finished second in two other ones."
Some horses have made names for themselves at Sam Houston, and they may do so again this year.
"We're hopeful to get Spooky Channel back to defend his title in the Connally Turf Cup (G3). He won it last year and ended up winning the Elkhorn at the end of the year for Jason Barkley. The Houston Ladies Classic (G3) has been incredibly productive over the years. Look at the list of winners. Letruska, Midnight Bisou, Forever Unbridled, Unbridled Mo. In fact, three Apple Blossom (G1) winners ran in the Houston Ladies Classic in the last six runnings. These are horses that have really done some good things in their careers, and hopefully we'll continue to make it a staple in the early part of the season. Todd Pletcher sent over a horse for what is now known as the Bob Bork Texas Turf Mile. That's a race that's been trying to build in terms of standing to potentially get graded down the line. We've gotten good representation over the years from Brad Cox, Tom Amoss and obviously Steve Asmussen."
That Sunday afternoon card at the end of the month may take Tammaro away from a table at Bally's Las Vegas, but he thinks he will be right back in 2023. In the meantime, while his mind will be on the tasks in front of him at Sam Houston, he advised horseplayers they may want to pay attention to what he will be watching that afternoon.
"Hopefully I'll miss it this just one year and then be right back, because NHC is undoubtedly one of my trips I really look forward to most," he said. "Not so much for the contest but the camaraderie, going to Vegas, etc., etc. But (the Houston Racing Festival is) going to be a day card at 1:45 Central time. It'll be late morning for everybody in Vegas for the NHC with plenty of time to enjoy it along with what's going on with the NHC – and a little bit of football."