In the last 20 years only four women have cracked WEG's top ten list of dash-winning trainers, and thanks to the year that she had in 2021, Chantal Mitchell is one of them. She accomplished this thanks to good relationships, a great work ethic, a fantastic team, and the patience that she had with a pair of problem-child young trotters who ended up winning their respective OSS Grassroots championships.  By Keith McCalmont.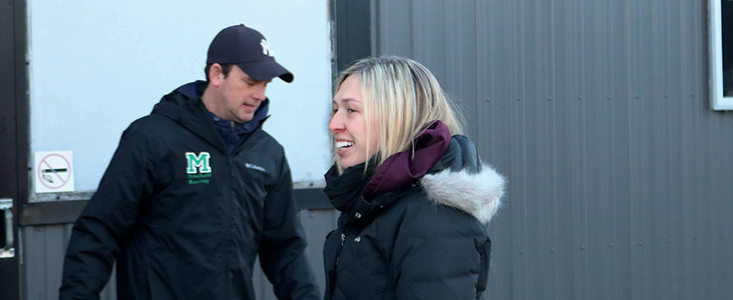 Chantal Mitchell has endured more than her fair share of hardship to earn her current status as a Top 10 trainer on the tough Woodbine Entertainment circuit.
In 2021 the 34-year-old native of Lincroft, New Jersey, joined a select group of female conditioners to have cracked the WEG Top 10 (by wins) in recent memory, joining only Casie Coleman, Tracy Brainard and Jodie Cullen on that list dating back to at least 2003.
Hall of Fame driver Randy Waples, who works full-time with Mitchell and her partner, Kris DiCenzo, at Classy Lane Training Centre in Puslinch, Ontario, says the young conditioner is a rising star.
"Her momentum grows each year and I can see her having a big year [in 2022]," Waples said. "I thought 2021 was a breakout year for her. It's hard to be top 10 on the Woodbine circuit whether male or female."
Mitchell has spent most of the past two decades plying her trade in Ontario after learning the ropes in Quebec, working her way up under trainer Daniel Martin while growing up in a horse-friendly family. Her mother, Sheelagh, worked with hunter/jumpers, and her father, Bob, was a conditioner in his own right. The family moved from New Jersey to St. Hubert, Quebec when Mitchell was 11-years-old.
"My mother is American, and my father is Canadian. We moved to Quebec because my parents wanted us to know my father's family more," Mitchell explained.
Mitchell said her father's career was cut short due to injury, but he still enjoyed going to the track and she appreciated the opportunity to tag along.
"He was on permanent disability and wasn't to work anymore, but he would go into the barn to see friends and help out. I went in with him and just caught the bug and kept at it," Mitchell said.
She proved her mettle paddocking horses for Martin, and when the conditioner said he was going to send a string to Ontario for the summer, a then 18-year-old Mitchell was tapped to travel with the horses, including a hard-knocking trotting filly named Striking Pockets, who would win the 2006 Flamboro Breeders Stakes.
"I got to come out two summers in a row, and the second time was supposed to be a short stay, but three weeks turned into three months and three months turned into 15 years," said Mitchell, with a laugh.
Mitchell, away from home for the first time, worked hard at her craft and started making a life for herself.
"The first summer I was staying in the dorms at Mohawk, but the second time I came by myself, went to Classy Lane and found a place to live around there," Mitchell said. "I had big responsibilities out here and people don't always realize how young you are.
"Now, I've been out here forever," Mitchell continued. "I've worked with a lot of people and when your birthday comes around and people ask how old you are, they're shocked when I tell them."
Mitchell studied science briefly at college with an eye to becoming a veterinarian, taking classes at night while working at the barn during the day, but she didn't sign up for a second semester when word came that she would be heading back to Ontario for a second summer.
All of that responsibility at a young age suited Mitchell, who admitted she has an independent streak to match her keen work ethic.
"When I was 14, I got a cell phone and I paid for it myself. I didn't want my parents to have to pay for it," Mitchell said. "When I bought my first car I saved up by paddocking on weekends and working holidays in the barn, replacing people who were away. I got that taste of independence."
Today, with a cursory review of her stats, the gradual upward trajectory of Mitchell's career seems natural. After sending out her first horse in 2005, a winner named Daylon Frost, she broke the century mark for number of starts for the first time in 2010. In 2015, she won 20 races for the first time, while sporting a then career-best earnings just shy of $250,000.
But in January of 2016, tragedy struck at Classy Lane when a barn fire took the lives of 43 horses. Mitchell and DiCenzo were at Woodbine that evening with Rakin It In, who was making his career debut. They could see the fire as they approached Classy Lane on their way home from the track with the gelding who had finished third,
Mitchell lost seven racehorses in the blaze, including three she owned herself. DiCenzo lost four horses in the fire. Also lost were a trio of miniature horses and a significant amount of tack and equipment.
Mitchell said the memory of the tragedy lingers.
"It's something that's always there. You take the hand you're dealt and you have to show up. After the fire happened, we had one horse left to train and plenty of people willing to help us out," Mitchell said. "We just showed up the next day and the day after that and kept going."
Incredibly, Mitchell's lone remaining horse, Raking It In, returned to Woodbine the following week and nosed out an emotional win.
"I was serious that I wanted to keep going," Mitchell said. "All of that support came in and I really appreciated it."
Now, Mitchell and DiCenzo, her partner of more than 10 years, oversee a stable of 22 horses, who they train with the help of four staff in their rebuilt barn at Classy Lane. Together, they have participated in some of the biggest races in the country and have averaged 219 starters per season over the past three years.
"To have that barn fire completely wipe you out and for her to come back even stronger, that shows so much about what kind of person she is – that both of them are," Waples said.
And Mitchell's drive and determination go a long way towards honouring the horses lost.
"I don't want to be known as the person that came from the fire, but we are a part of everything we go through and it all plays a part of who you are," Mitchell said. "Maybe that's what drives you because you know what you lost. It's a part of me."
* * * *
Mitchell, who is bilingual thanks to her Quebec upbringing, likely also has a fluent understanding of Aussie slang.
When Daniel Martin decided he wasn't going to race on the WEG circuit anymore, Mitchell made the decision to stay in Ontario and work with Australian conditioner Kevin O'Reilly.
"I had a couple horses left with me but I needed a job, so I worked for Kevin, and Chris Ryder always sent his horses to him," Mitchell recalled. "I had a truck and trailer, so Kevin would have me ship, paddock and race the horses that Chris sent up."
That connection opened a number of doors for Mitchell as the Australian-born and New Jersey-based Ryder would routinely send horses to her care, including $2.4 million earner Put On A Show, $1.9 million earner I Luv The Nitelife and 2016 Three Diamonds winner Thats The Ticket.
"I've had multiple horses that raced in the Metro that he trained. I paddocked and raced Put On A Show and I Luv The Nitelife multiple times for him," Mitchell said. "The odd time, Chris would tell me, 'This one will stay with you for the summer, so race them in your name.'"
The partnership with Ryder allowed Mitchell to grow as a conditioner, gaining valuable experience with high-end horses and building relationships within the industry.
"I think 2018 was a turning point," Mitchell said. "Chris told me had a Bettors Delight colt who was training OK and that he was going to qualify him and send him to me to race in my name for the summer and see what he is."
Ryder didn't exactly sugarcoat the opportunity.
"He said, 'You'll be disappointed when you see him – he's small,' recalled Mitchell. "So, he qualified the horse twice at Chester and Chris went with him both times."
Mitchell made the arrangements to have the colt shipped north and had him entered on July 5, 2018 at Woodbine.
"We raced him in his first lifetime start with Paul MacDonell and he wins – the horse is Bettors Wish," said Mitchell. "I raced him as a two-year-old and he really exceeded everyone's expectations. Chris had said he's just OK. He wasn't flashy and he was small. He wore a 53 1/2 inch hobble, but could he ever go."
Bettors Wish would make just shy of $350,000 in his freshman campaign through a record of 12-5-4-2, including a narrow defeat to Bronx Seelster in the Battle of Waterloo.
"He came back as a three-year-old and he was a superstar. Sometimes, horses fly under the radar [early on]."
Bettors Wish raced in Ryder's name during that stellar sophomore season, banking in excess of $1.7 million through a record of 19-13-6-0, including runner-up efforts in the North America Cup and Breeders Crown while racing out of Mitchell's barn.
Mitchell's good horsemanship, while caring for Ryder's raiders, paid dividends when she was then sent the eventual 2019 O'Brien Award winning two-year-old pacing filly, Alicorn. The Bettors Delight lass posted a record of 13-7-4-0 and purse earnings of $536,907 that year for the partnership of Windermere Stable and Robert Muscara.
"I got a call from the people who own Alicorn because one of the owners' trainers was stabled at the same farm as Chris and it was his recommendation to send the horse to me," Mitchell said.
It was through Ryder that Mitchell also came to know prominent owner Richard Young, but it took the up-and-coming conditioner time to earn Young's trust. Among the horses owned by Young that have spent time in Mitchell's care were the aforementioned Put On A Show, as well as her full sister, The Show Returns, of whom big things were expected in her 2014 two-year-old campaign.
"Richard Young knew these horses were in my barn and he would talk to me because that's the kind of owner he is, he wants to talk to the person who is looking after the horse," Mitchell said. "The Show Returns was to stay up here for a few months, in Chris' name, but the week after she won a race she raced poorly. Richard was upset and he called Chris to move the horse."
Instead, Ryder sent his second trainer up to assist with The Show Returns, who would later win the Champlain at Mohawk. Mitchell said she understood Young's concerns at the time and she continued to work and learn and grow.
Mitchell and Young met again at the draw for the 2019 North America Cup, with Mitchell representing Bettors Wish for Ryder and Young on-hand to support his recent OSS Gold winner Best In Show, a Bettors Delight son of Put On A Show.
"He said, 'isn't this interesting – you're racing a horse against Best In Show, who is out of a mare that you paddocked and looked after all those times,'" Mitchell said. "This summer [2021] he called me and asked if I wanted to train Best In Show and we did."
Best In Show, now retired to stud, won three starts in 2021 for Mitchell and she said that Young was so pleased with their work that he offered one of their mares a free breeding.
"You have to put in your time and prove to be reliable and get the job done," Mitchell said. "A lot of people might not have done what I did when Chris Ryder sent me those horses. What did I gain from that? I was paid to ship the horse and look after the horse, but what it also did was it kept my stalls filled and it kept me and my staff employed for a bit. Fast forward several years and now one of the owners of Bettors Wish has three horses in my barn. It ended up being a stepping stone to where I am now."
* * * *
Every trainer has at least one "project" horse in their barn. In 2021, Mitchell had two such characters in trotters, The Prince and Armstead Cole, who would go on to win their respective OSS Grassroots finals against all odds.
But in order to see a project through, you need a good team with the right type of leadership. For Waples, a veteran from a well-respected industry family, there was never any question he wanted to be part of the Mitchell/DiCenzo crew.
"The biggest thing that attracted me to them was their kindness to the horse. They're very good to their horses," Waples said ."They don't drill them hard with training. They're easy on them in that way and it was a really good fit for me.
"But they're also just good people," Waples added. "And they work hard. They're very hands on. If you walked into their barn and saw five people working it would be very hard to tell who was Chantal and Kris, and who the three grooms were, because they'd all look the same. They look after their own horses and put away their own horses. They go just as hard as you, so it's really easy to work for people like that."
Waples was keen to identify an all-star group of caretakers assembled by Mitchell, including Trish Saftic, Sandi Lawrence and Tami Sepper.
"It really runs like clockwork," Waples said. "Mike Saftic's sister Trish, and Sandi and Tami are fantastic. Sandi looked after Frenchfrysnvinegar, who won multiple O'Brien Awards, and Tami looked after Courtly Choice for Blake MacIntosh, who won the Canadian Pacing Derby. These are high-quality grooms and any trainer would want to have them in their barn."
The barn works hard and Waples makes sure the team has a little fun along the way.
"I'm sure there are days they wish I'd shut up, but once you pull the string on the talking Randy doll it's pretty hard to shut it down. You just have to let it ramble," Waples said, with a laugh.
Owned by Imagine Stable and Party Dont Stop Racing, The Prince, a gelding by Archangel, won his Grassroots title at three after enduring significant growing pains as a young horse.
"I trained him down as a baby and he was going really well, and then one day he just wasn't," Mitchell recalled. "He was growing and his hind end was two inches higher than his front end and he couldn't function. He was all out of sorts."
Eventually they just quit with him and turned him out.
"When we brought him back I'd never seen a horse grow so much from two-to-three. He was absolutely huge… and he was a small baby," Mitchell said. "With training him back came a lot of colt soreness and growing pains. We got him ready and he had two starts where nothing went his way, and then we got shut down for COVID.
"We owned about a quarter of him, but I remember after training one day he was sore and Kris said to me, 'I don't like our chances of making much money,'" recalled Mitchell. "But he worked through it and we used massage therapy to help him get over these humps in life. Once he qualified he never looked back. He hit the board nearly every start and made over $113,000."
James 'Donnie' Armitage, Grant Watson, Sheryl McDiarmid and Dr. Roland Armitage's Armstead Cole, by Johnny William, won 3-of-8 juvenile starts for Mitchell on the way to his Grassroots title.
Mitchell said she had heard plenty about the unique individual long before the gelding entered her barn, via frequent messages from Donnie Armitage, who was busy training the horse down at his farm in Dunrobin, not far from Rideau Carleton.
"All winter long Don would say to me, 'This horse is weird,'" said Mitchell, with a laugh. "Don would tell me the horse sees everything and he's afraid of everything and he runs away.
"It took a month to teach him how to get on a trailer," Mitchell added. "They got him to Rideau and he was well behaved, but he had no partners to train with. He was almost ready to qualify, but he'd never seen another horse."
And so, Armstead Cole was sent down the 401 to Mitchell to qualify.
"This horse was a giraffe. He's super tall, lean and just wild," said Mitchell. "He went from a farm with two other horses to our farm with 30 horses on the track at any given time. Just putting him in the wash rack was an ordeal. It felt like he'd get loose every time we walked him to the track."
While Armstead Cole was physically ready to race at the beginning of the summer, he was far from prepared mentally for life on the track. With Waples on a brief sojourn to work in New Jersey, it was DiCenzo and Hall of Famer Steve Condren that provided the young horse with his re-education at Classy Lane.
"We had to take the time to teach him to be around other horses because you wouldn't know which direction he'd go," Mitchell said. "He didn't care if there was another horse in front of him, he would have went right over the top of them – he was just running scared."
But the owners – and Mitchell – were patient, and in August he was ready to qualify. The plan was for Waples to just follow the pack and let him finish up, with his team all the while worrying about whether or not the young horse would spook and make an abrupt left turn.
"Randy took him back and let him finish up, and he did everything he was supposed to," Mitchell said of the fifth-place effort in 2:02. "Donnie called me as soon as he crossed the wire almost in tears. He said, 'I can't believe how professional he looked. He went out there like a champ.'
"So, we raced him and he made a break and Randy said, 'It was my fault, I ran up on a wheel with him. Put him back in next week and he'll be fine,'" Mitchell recalled. "We kept racing him conservatively and he kept closing up good and getting stronger."
Armstead Cole would break his maiden with an OSS Grassroots win at Grand River in September.
"That was the turning point for him," Mitchell said. "Randy started to drive him with a little more confidence. All of the sudden we had a horse."
Waples credits his fellow Hall of Famer and the patience of Mitchell and DiCenzo for the colt's success.
"I can't take credit. Those early lessons were more Kris and Steve Condren. I was in Jersey when he first came from the farm and that's when he was at his worst," Waples said. "With young or green horses, I've always more or less patterned myself after Condren. In a lot of situations, I just did what I thought Steve would do and that's be patient."
Waples added that Mitchell's patience was also key in developing the young horse.
"With fractious trotters it goes two ways – you rush them and they don't live up to their potential or you can be patient and let them come along at their own speed," Waples said. "Kris and Chantal let him come along at his own speed and let me race him at his own speed. In time… he knew how to race and he was tight. We hit at the right time, at the end of the year."
Both The Prince, piloted by another HOF'er in Paul MacDonell, and Armstead Cole, in rein to Waples, won their OSS Grassroots eliminations in good order, but would have to overcome the hurdle after drawing posts 9 and 10, respectively, in the $60,000 finals.
"I remember Kris saying to them at the barn one day, 'We're going to find out how you two made it into the Hall of Fame with these post positions," laughed Mitchell. "And they did it. It was a great night."
Waples admitted it was an emotional win for him.
"He was a project but part of it was pure selfishness – it had been a while since I won a stakes race and that made me feel good, too, and brought some emotions," Waples said. "Donnie Armitage is just a super guy, plus I was going into the barn for Chantal full time in the mornings and knowing we'd go in the next morning and everyone would be so proud of the horse made it special. She'd had a big night winning two finals and that made the whole atmosphere really nice. It was as enjoyable a win as I've ever had."
Waples believes that big things are in store for the team in 2022.
"She's very intelligent – both of them are. If she gets the firepower, the way she runs things and the way she surrounds herself with the best help out there – other than me – she can do well," a modest Waples said. "She just does it right. She's like a baseball manager building a team on people's strengths. My biggest strength is being on the track and she builds my day around that."
Mitchell admits that she'd like the barn to be on-track for an even more successful campaign, including a return to the showcase events on the Woodbine circuit.
"In 2018, we had a second in the Battle of Waterloo and a second in the [OSS] Super Final with Bettors Wish. In 2019, we were second in the Battle of the Belles and the Shes A Great Lady, and won the Super Final with Alicorn," recalls Mitchell. "In 2020, I had a season that was almost a million dollars in earnings and we won another Super Final [Dashing Muscle] and had a win in the Fan Hanover with Party Girl Hill for the Hill family."
Mitchell said her 2021 campaign, while lacking some of her previous star power, was yet another step forward for her barn.
"This year we won two Grassroots [Finals], so it seems like it's less but it was equally exciting." I had more horses that made $75,000-$100,000 each and I think people see that you're winning with more horses rather than just one big horse."
That said, Mitchell is hopeful she'll find a diamond in the rough to showcase this season, while also waiting to see if Armstead Cole can make the jump from Grassroots to Gold.
"I feel like I have a barn full of good prospects this year and it would be nice to be a big player again," Mitchell said. "It would be great to take those horses to the races on Metro night and NA Cup night and bring home a cheque."
Among those potential stars are three-year-old pacers D J Seelster, a colt with two starts, and an unraced filly by Bettors Delight named Ruth Hill, who is a full sister in blood to $1.7 million earner Racing Hill.
Both horses may be projects, but Mitchell said she's willing to do the work – a trait she's proven time and again.
"As long as you know you've put the work into them and given them everything they need so that they're happy and healthy, there's nothing else you can do," Mitchell said. You take them to the track and you've done your job. The rest is up to the horse and racing luck."
 This feature originally appeared in the February issue of TROT Magazine. Subscribe to TROT today by clicking the banner below.