Dan Vella: A wonderful 50-year Horse Racing Life
Sitting comfortably in his living room on a bitterly cold January morning, Dan Vella embraced the opportunity to reminisce about his horse racing life, the one that started 50 years ago on the Woodbine backstretch.
With the 2021 Thoroughbred season in the rear-view mirror and the start of the 2022 Toronto oval campaign a few months away, the 66-year-old Vella spoke passionately and proudly of a career that is still galloping along at a steady pace.
While certain names, both horses and people, might escape his recollections, how it all began for the man with 860 career wins, where he's currently at, and where he believes he's headed, couldn't be any clearer.
"When people say things like, 'Remember back in 1991 when you did this?' I don't always recall those things. My mind doesn't work that way, but I do remember a lot. And whenever I do recall those moments, it reminds me of how lucky I've been."
Vella's introduction to horse racing came through his uncle, a relative whose passion for the sport was quickly noticed by his young nephew.
The pair soon bonded over a mutual love of all things horses and horse racing.
"I had an uncle, his name was Jim Saliba, and he was a vegetable farmer out near Streetsville [Ontario]. That was my mother's side of the family and he always owned racehorses. I used to spend summers out on his farm. His son Mike and I were best buddies when we were kids. So, I'd go out to Uncle Jim's farm and work there all summer. His family, they weren't big on racing. They liked it, but they weren't into it. I took to it right from the start. He'd work all day, run out and get the Racing Form, and that was his reading in the evening. He would handicap races. It became a thing for him and I to go to the races together. I have a win picture with him from 1961 at Fort Erie when I was about six. That's when my love of the sport started."
Vella's initial work with equines wasn't with racehorses.
Eventually, however, he found his way to the Woodbine backstretch in 1972, a wide-eyed teenager bent on finding a gig in the Thoroughbred world.
"During high school, I worked on weekends and the summers with show horses. I worked for a great horse guy named Lorne Siegel. I worked part-time in that for a few summers in high school and once I finished high school – I was 17 – I went over to Woodbine looking for a job. My first job was with trainer Jerry Lavigne. He had a great outfit, not a huge one, but he had a bunch of good horses. I started out walking hots and I learned to ride out in the fields on the old pony named Donald Duck. By the fall, I was grooming horses."
Although he didn't know it then, Vella was well on his way to becoming a fixture at the racetrack.
If he had any trace of doubt as to whether horse racing was his true calling, one of the most prolific stars in the history of the sport cemented his decision.
"I was grooming Fabe Count, who raced against Secretariat in his final race, the Canadian International, at Woodbine. It was exciting, but I think I was too young to truly understand how exciting it was. It was a big deal. I still have a couple of win tickets. I bet a few dollars on Secretariat and kept the tickets that say 'Big Red' on them. If I look hard enough, I'd probably find three or four of those tickets."
The sight of Secretariat pulling away from the pack with ease, the fans streaming across the dirt track to get a front-row look at the champion in his finale, the crescendo of the crowd growing as the brilliant chestnut strode back to the winner's circle – Vella remembers the sights and sounds as though it were yesterday.
One specific moment remains etched in his mind.
In the minutes leading up to the race, before Secretariat had stepped onto the racetrack, Vella found himself an arm's length away from the awe-inspiring superstar.
"I remember being in the paddock with Secretariat and a lady pulling a hair out of his tail and he didn't even bat an eye. I saw that with my own eyes, but I couldn't believe it."
A few years after his brush with greatness, Vella's career started trending upwards.
The more he immersed himself in the sport, the more he became enamored with the training side.
He also enjoyed any chance to get in the irons.
"One of the guys who taught me to gallop horses was Chris Rogers. I was working for a trainer named Jerry Moreman, and I had just started galloping. I had the great fortune of working with two of the best in Chris and Jerry. Chris was an absolute genius on a horse and Jerry was a great trainer and great guy. They understood horses and I learned so much from being around them."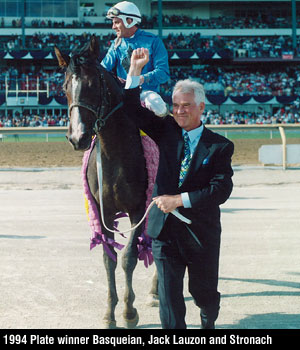 That would include the good-natured give-and-take that's commonplace on any backstretch.
"I'm breezing horses with Chris one day and I'm on a stakes horse. I'm on a good horse and he's on a much cheaper horse. I turn into the stretch, and I chirp at my horse. I think, 'I'm going to start pulling away.' Well, I don't move an inch, and Chris and his horse are about a head or a neck off me. I chirp again and tap him on the shoulder, and again, my horse doesn't move an inch. These two horses are going along stride-for-stride and I'm starting to wonder what the heck is going on. I look over sideways and there is Chris, who has a hold of my saddlecloth, grabbing on to the back corner of it. He's just giggling and laughing at me. It's another one of those things that makes you love the sport."
And Vella certainly did.
He remained relentless in his quest to join the training ranks.
"It [training bug] hit me right away. From the time I was 17 until I was about 20 or 21, I didn't miss one race run at Woodbine. I used to keep the programs and the Racing Forms. I really analyzed the racing. I was into it from the start. I got sent down to New Jersey when I was around 20 and lived down there for 10 years. That was my next step. I came back up to Woodbine and worked for [trainer] Paul Buttigieg for a short time and started working my way up. It all really came together when I started working for [Knob Hill Farm owner] Steve Stavro. Pat Collins was training for him too. We worked as a team together on it. I was with Mr. Stavro for a while. Pat, unfortunately, passed away in a car accident in Florida. I took over and things kind of snowballed from there."
Did it ever.
Vella was soon the go-to trainer for some of racing's top owners, including Stavro and Frank Stronach.
Wins, high profile ones, were soon the norm. He was credited with his first stakes win when Bert James took the 1985 Sir Barton.
Training for Stronach between 1993 and 1998, Vella spent the majority of those years competing in the United States, where he sent out Explosive Red to win the 1993 Hollywood Derby and American Derby. Vella also excelled at Woodbine, punctuated by his 1994 Queen's Plate triumph with Basqueian. He was voted the Sovereign Award as Canada's outstanding trainer in 1994 and repeated the feat in 1995. After parting ways with Stronach Stables, he remained in the United States before he returned to Woodbine in 2003.
"Basqueian is one of my all-time favourite horses. He was very talented, but very personable. He was a tough horse. He won the Durham Cup three or four times. He was an average-bred horse, but he's a very good one. As talented as he was, he had this amazing focus. Over the years, you have horses that are talented and others that are overachievers. He was both. He didn't miss much. He would go inside, outside, around, at the front – he could do anything. He won the Plate, was second in the Prince of Wales, and won the Breeders'. Just a great horse."
Other stable stars Vella has campaigned include King Ruckus, Wild Zone, All Firmed Up, Miners Mirage, and Mysteriously. He also had two Breeders' Cup starters: Honky Tonk Tune, in the 1994 Juvenile Fillies; and Dargai, in the 1990 Sprint.
In 2012, he sent out Strait of Dover to win the Queen's Plate, a front-running score engineered by jockey Justin Stein on a rainy, grey day at Woodbine.
"It was a mess that day, but you don't remember it that way. You're out there and it's pouring… I felt bad because the owner's elderly mother was there, and she was soaking wet. We all were. When you have that kind of win in that kind of race, you don't really care about what's up in the sky. It was a great ride by Justin and just a great day all around."
There have been other triumphs beyond the two Plate crowns.
Last year, Vella sent out 13 winners from 97 Woodbine starts, including stakes winners Marie MacKay, The Minkster, and Where's Neal.
A son of English Channel, The Minkster capped off a sensational rookie campaign with a victory in the 118th edition of the Coronation Futurity, a key race on the road to the Queen's Plate.
"We have some nice young horses in the barn and we're hoping to take a run at some big races. It's fun to have good horses and it makes getting up in the morning a little easier for everyone in the barn. They're all different. Horses, they may blossom at different times, but we're lucky to have them with us."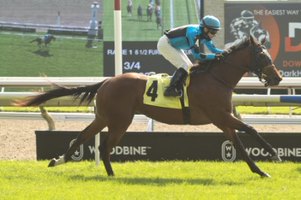 David Moran, who rode both Marie MacKay and The Minkster, praised Vella in the form of five words.
"Danny is a natural horseman," lauded the veteran jockey.
Those who work for him, including assistant trainer Silvio Abela and groom Janeen Lalsingh, have similarly high praise for the conditioner.
"He is very respectful to his staff and truly enjoyable to work for," said Abela.
Added Lalsingh, "What stands out for me is that every horse matters to him in the barn and how patient he is with both horses and his staff."
Mentoring people, just as many others had done for him, is a treasured role for Vella.
"I like to think that over time, I've had a positive influence on the industry, as far as helping people. When you employ people, you are an important part of their life and there is a lot of pressure in that. Taking care of people and the horses, it's something I take very seriously."
Vella always has.
Yet there is no trace of conceit in his tone when he speaks of his golden anniversary in racing.
"Fifty years… it's hard to believe time has gone by that fast. I can say that I'm very proud of my career and I can also say that I've had some good help over the years. Steve Stavro, and Frank and Frida Stronach have been fantastic to me and to my career. They changed everything for me. I've always felt very lucky to be a person that others could trust to train their horses. That's a big thing. These people invest in their horses, they breed them, they put their love into them – there is a lot of emotion involved in this. It's more than just money. I've always felt I've been very lucky to have good horses in my barn. I learned a long time ago – I'm not taking anything away from horse trainers – that being a good trainer is quite easy. You just need great horses. Great horses do great things, they make careers, and they make us very happy."
And make no mistake, Vella is happy.
Lucky is a word he uses often.
"When I look back on my career, I never forget just how lucky I am. Winning two Queen's Plates… for a Canadian trainer, born and raised here, brought up around horse racing, I don't think it gets any better. To be quite honest, for a young kid working on the racetrack, to win the Queen's Plate, it's what you dreamed about."
Soon, the pounding of hooves over the Woodbine racetrack will return, preparations and plans for his barn will begin, and the pursuit of more victories will be at the forefront of Vella's thoughts.
But for now, even briefly, the chance to look back in time is a welcome distraction from the cold and snow.
"Sometimes I flip through pictures and wish I would have kept more photos of stakes races and things like that. When you look back at the photos of the horses, you remember the wins, but you also remember their personalities. It's great to look back and remember those moments. It really is very enjoyable."
Chris Lomon, Woodbine Communications