TORONTO, May 19, 2021 – Each week, in the lead-up to Opening Day of the 2021 Woodbine Thoroughbred season, we'll follow some of the top storylines of key horses and horsepeople, and also share other important news, notes and highlights.
From horses on the Queen's Plate trail, to horses to keep tabs on ahead of the upcoming Woodbine season, to catching up with Woodbine jockeys and trainers, the weekly report keeps racing fans and the racing community in the loop.
In this week's report, Kevin Attard recalls his first Woodbine win, jockey Gary Boulanger's road to recovery, trainer David Bell's fleet runners, and Count Again's stirring Singspiel score.
My First Woodbine win: Kevin Attard
Date: July 12, 2001
Horse: Jade Eyed
Race: Six furlongs for maiden 2-year-old fillies on the Woodbine main track
Margin of victory: 5 lengths
$2 Win payout: $58.70
Owner / Breeder: Stronach Stables
Chasing victory: "I was training for Mr. Stronach at the time and we had 2-year-olds, exclusively. We had run a couple already and we were high on a few of them. But nobody had broken through yet."
Eye-opening moment: "This one particular filly, Jade Eyed, she was an Ontario Sired horse. Gerry Olguin rode her that day and she was a big price. She just romped. She had worked okay in the mornings, but hadn't really shown a whole lot at that point. But she seemed like a different horse in the afternoon."
Twice as nice: "I remember she had a little bit of attitude to her. She was feisty. She was pretty straightforward, in a sense. She actually became my first stakes winner too. She won the Nandi Stakes next time out (July 28 at Woodbine), so she has extra special meaning for me."
A dream realized: "Obviously, it was very exciting to get that first win out of the way. It's one of those things that you'll always remember. I grew up in the game and getting that milestone win is a lifelong dream. To finally be there and see that dream realized… it's a great feeling. You hope that it's one of many you'll experience. It's a feeling of joy and relief. You celebrate and then you get right back to work."
*
Jock Talk: Gary Boulanger
After a season-ending knee injury suffered in a morning training accident last July, the champion rider is looking forward to the moment he can get back in the saddle again.
A tough 2020: "Dealing with the physical and mental side of the injury, it was tough in both ways. It was tough just not knowing how in-depth it was for the first four months. We finally got the MRIs, and then the surgery in September. Now you know what it is, it's worked on and it's fixed. Now, it's just the healing aspect, doing the rehab and then everything should be okay. I'm just looking forward to getting back to riding. Physically, it's never easy. That was a tough for a while. Mentally, it's a lot tougher. That was much longer than the physical part."
Hard to watch: "When I saw all these horses that I had been working and riding, getting them ready for the races, and they were winning. I just felt I couldn't watch racing. But I did watch some of the big races – the Queen's Plate, the Kentucky Derby, and some of the other big Woodbine races. To watch races in general, on a daily basis, I didn't."
Still motivated: "If I had any question that I couldn't come back, couldn't do this, I'd say, 'Sorry, I just can't do it anymore and I'm calling it a career.' But I'm not ready to stop riding. Everything is healed and hopefully in June, the surgeon will tell me that everything looks great and I can get back on the horses. I'll make sure I'm fit and go back to doing what I do best."
Young guns: "I just missed getting on the horses. You love working with each individual horse and seeing them carry over what they've done in the morning into the race itself. It's great to see that, especially in developing young horses. That's something I've always enjoyed. When they do well and go beyond those expectations… I really miss that."
Wish list: "I don't set goals, yearly. I've said I'd like to win 4,000 races. Each year, you always want to win the Plate, and you want to win the big races. Those are the goals I like to set. I don't set a particular number of wins. For me, it's more about those big races."
Circle the calendar: "I'm counting down the days until the next visit with the surgeon (June 16). Hopefully, everything goes well, he likes what he sees and gives me the green light to get on the horses. I'm hoping to get cleared to get on horses in June. We just don't want to re-tear the ligaments. But I can't wait until I get into the gate for that first race back."
*
Ones to Watch:
From Canadian Thoroughbred's Jennifer Morrison…
David Bell is no stranger to fast horses and when the 2021 Woodbine season gets underway, the trainer will be ready with some fleet runners of his own. Bell, who has won 732 races as a trainer and was previously an assistant to Hall of Famer Roger Attfield, sent brothers Marten River and Better Boogie out for quick workout times at Woodbine on May 16.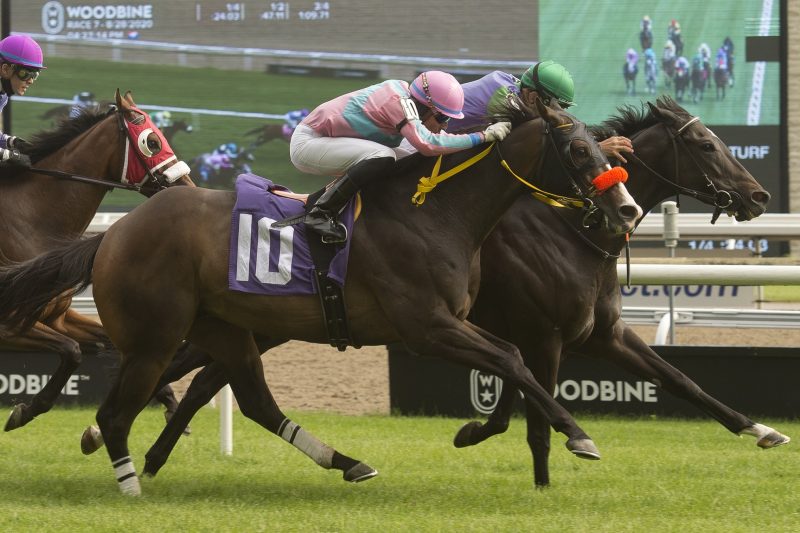 Marten River, who cost just $3,500 at the CTHS yearling sale six years ago, won two of his last three starts of 2020 and sped five furlongs in 58 2/5 while younger full brother Better Boogie went the same distance in 58 3/5. Both are Silent Name geldings bred by Jen Leuty.
Bell and partner and assistant Val Topp are also looking forward to starting John Kertesz' recent purchase Day Tripper, a 2-year-old Kentucky bred colt by Tourist who was bought for $46,000 from the Ocala Breeders' Two-Year-Old in Training auction.
The consignor of the colt? Fast Horses.
*