Laura Krasauskaite THE DETERMINED HORSEWOMAN
Five days removed from her biggest horse racing highlight, trainer  channelled her inner Snoop Dogg.
There is no trace of conceit in her voice, nor is there any want of adulation in the aftermath of her milestone moment, the one delivered by Silent Causeway, the filly she also owns, in the stakes race on the penultimate day of the 2021 Woodbine Thoroughbred meet.
"Just like Snoop Dogg talked about on the day he received his star on the Hollywood Walk of Fame, I'm proud of me," started Krasauskaite, referencing the rapper, songwriter, actor, businessman and entertainer. "Winning my first stakes race, the La Prevoyante, I am very proud of that accomplishment."
One the 38-year-old is still trying to wrap her head around.
Purchased at the 2018 CTHS Ontario yearling sale for $4,000 from breeder Michael Deegan and consignor Bernard McCormack, Silent Causeway was testing the stakes ranks for the second time. Last year, she missed by a nose in the Algoma Stakes.
Runner-up finishes, usually requiring a photo finish, were nothing new for the dark bay who gave Krasauskaite her first training win last June.
Ahead of the La Prevoyante, she spent quality time with her filly and offered up encouragement, actions and words she hoped would spur on the four-year-old to victory.
"We ran in the Algoma in 2020 and she just missed winning. With her, it always seems it's almost. That she has the talent, but something was missing. I had to find the solution, to stop missing by a nose or a hair, or a head-bob. I realized that she just wanted more attention from me. We call her 'Diva' for a reason. She's very needy, kind of like, 'Look at me. I'm special. Me, me, me.' So, I said I will give her that attention. I went into the stall, massaging her, rubbing her legs – she doesn't need that, but she likes to be pampered. It's a spa day. For two weeks, I just gave her that attention and put all the focus on her. And I kept telling her a couple of days prior to the race, 'Stretch your neck, stick your tongue out if you have to.'"
As it turned out, she wouldn't need to go the extra mile.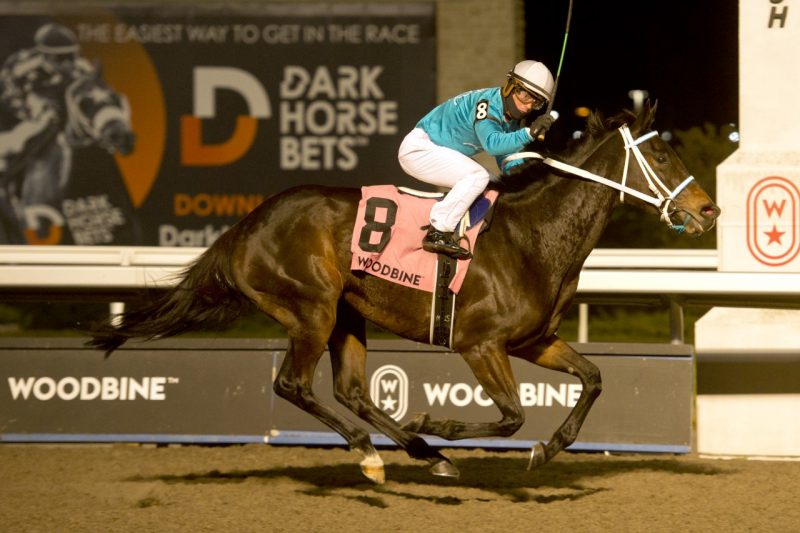 Sent off as the 9-2 third choice in the field of 10 in the race for three-year-old Ontario-sired fillies, Silent Causeway was at the back of the pack into the first turn. After a quarter-mile in the 1 1/16-mile race, she still had nine rivals in front of her.
Summer Sunday, the multiple stakes-winning champion contesting her final race before heading to Ireland to become a broodmare, then struck the front and led the group through a half-mile in :47.72, as Silent Causeway moved into ninth spot.
November Fog, the slight 2-1 choice, engaged Summer Sunday around the turn for home and seized command while jockey Justin Stein, aboard Silent Causeway, had his charge rolling down the lane.
Fourth and gaining at the stretch call, reached in 1:38.59, Silent Causeway went on to notch a two-length victory in a time of 1:45.62.
Flanked by her two daughters, Karoline, 10, and Deolina, 7, at the rail, the trio energetically, enthusiastically and exhaustingly cheered the filly home.
The decibel level grew louder in the final strides to the finish line.
"It was awesome," recalled Krasauskaite. "The girls were screaming louder than me when she was running down the lane. When she switched leads, I knew that it was going to be okay. That's the first thing I was looking at. I said, 'Switch leads, honey!' And she did. She kicked into another gear and this great feeling came over me. To be able to share that moment with my girls, to have them right beside me, it's something I will always remember."
Convincing herself it actually did happen wasn't anywhere near as easy as Silent Causeway's winning performance.
It took tangible proof of the win for Krasauskaite to, in racing parlance, make it official.
"When she won, I didn't believe it," she said of the daughter of prominent Ontario sire, Silent Name (JPN). "I was in shock for two days. I wasn't sure it was really real. "I fell asleep at about one o'clock in the morning because I couldn't sleep. When I woke up, I thought to myself, 'Okay, this is a nice dream, but you still have to work, Laura.' It was this confusion and you wonder if it really did happen. And then I saw the trophy that was right beside her picture, and then I realized, 'No, it's not a dream. This is real.'"
It was a goal Krasauskaite wanted to achieve the moment she took out her trainer's license four years ago.
She still has the note she penned to herself on that day.
"That's what I wanted the second I held my trainer's license in my hand for the first time. I wrote a note to myself saying that I have to go up. I don't want to stay steady. I want to go places. So, with my goals, I thought that I would start things with winning an Ontario-sired stakes race. I worked hard for that dream. I bought a nice horse for $4,000, and she won by nine lengths for me last year. I knew that I had a nice horse, but I felt that I had to spend time with her, to be patient and give her everything that she needed. She had a good two-year-old season, but when she turned three, everything just came together for her. I had seven people call me after she won that race so easily, and I said no to everyone. I looked at her and I knew that this was my chance."
A chance she never considered not taking. Just as she did when she made her way to the Woodbine backstretch over 20 years ago.
In 1998, Krasauskaite, along with her family, came to Canada, specifically Etobicoke, Ontario, not far from Woodbine. The young girl who had developed an affinity for horses in her native Lithuania, studying them, riding them and doing some jumping, eventually headed to Woodbine hoping to land a job.
Recollections are many, including the first day she traversed through the expansive Toronto oval backstretch.
"I do remember the first day I went there," she said with a laugh. "No English. All I knew was, 'Hi, bye, and thank you.'"
Her command of the English language and love of Thoroughbreds grew exponentially.
She was an exercise rider for 20 years for a few trainers, including John McKenzie, and bought her first horse, Sweet Shobiz, for $500. The daughter of Nobiz Like Shobiz finished second for Krasauskaite, which led her to buy a yearling, Vision of Future, in 2016, who would provide her first win as an owner.
Silent Causeway, however, is undoubtedly the star of her barn.
"I bought her blind. I really liked the bloodlines in the catalogue. The mare didn't race, but I really liked Silent Name, so I decided I'd take a chance."
A low-risk gamble that has paid off handsomely.
In 15 career starts, Silent Causeway is 3-5-1, with earnings in excess of $175,000 (CDN).
A horse, just like her trainer, who embodies the spirit of the jockey silks that accompany her every time she races.
The colours, turquoise and white, are partnered with a warrior astride a horse with a sword held aloft.
"I like turquoise and white because it reminds me of an ocean. When you want to get away and be by the ocean, you see that white sand and blue, blue water that gives you that feeling of calm."
The image emblazoned on the silks is an homage to her native land.
"The warrior on the horse, with the sword in the air, that's my heritage. That's my people. It is a symbol of strength. We are very stubborn people from Lithuania, and we don't stop working until we achieve what our dreams are. Every time I look at that symbol, it keeps me going."
And make no mistake, Krasauskaite is just getting started.
Less than 24 hours after the big win, there were moments, even if it was a brief thought, of loftier goals to consider.
There was also a glass, or perhaps two, of celebratory bubbly.
"The first thing I did after the race was call my girlfriends and tell them it was champagne night at my place. So, they all showed up and we had a great night. I called my parents too. My dad screamed very loudly and my mom started crying. It's a great moment, not just for me and for my horse, but for all the people who have supported me, including the people of Nobleton, where I live.
"But now, I'm finally down from cloud nine, and I will turn my focus to next year. We have two months to rest, but there is still a lot of planning. I have two broodmares that I'm planning on breeding and bumping up my bloodlines. Hopefully, we have some babies that can grow up to be stakes winners at Woodbine. One of them, Tell the Duchess, had one of her offspring, Duke of Love, win first-time out for [trainer] Josie Carroll. Hopefully, she can produce many more of those in my stable."
There are other dreams Krasauskaite will continue to chase, including one of the sport's most high-profile gathering of racing's biggest stars.
"My biggest goal is to have a horse in the Breeders' Cup. I don't care if it takes me two years, three years, four years, five years, maybe even 10 years. I will be there one day. It's my goal and it's my dream. I'm not going to stop until I find that horse who will take me there. I don't want to spin left on the same circle. I want to go outside of that circle, to make Canadians proud, to make Woodbine people proud, to make my family and friends proud."
The journey to where she finds herself now hasn't been without its hurdles. Yet, even in the lowest of times, Krasauskaite refused to throw in the towel.
"My friend told me, 'Don't quit.' I told her not to worry about that. I'm too stubborn to quit. I will never quit until I achieve what I want. It's in my blood."
Just like the determined warrior symbolized on her eye-catching racing silks.
"I'll say, like Snoop Dogg said, 'I'm proud of me.' I'm proud of me for not quitting. I went through bad days, stressful days, no money days and I'm proud of me for not stopping, not giving up and thinking positively. I didn't stop and I never will."
Chris Lomon, Woodbine Communications