By Chris Lomon / @ChrisLomon
From whatever point of view she's looked upon it, be it standing atop a five-story structure or thumbing through picture books as a young girl, Michelle Olson knew she was destined for a life in horse racing.
What do you do when you're an ironworker plying your trade on single and multi-story buildings, battling the elements and trying to maintain a steady hand? For the young woman from northern Ontario, you often dream of horses as you did as a kid.
"I built steel structural buildings," stated Olson. "My dad does that for a living. I miss it sometimes. It was very labour-intensive work, not that I'm scared of that. And it taught me a lot of skills. I remember there were plenty of times during those days when I'd realize where I'd wind up. Horses are my passion."
It took some twists and turns for her to realize her goal, but for the Standardbred groom and Quarter Horse outrider, there's no place she'd rather be.
Growing up, Olson was the self-confessed "crazy horse girl," a lover of everything equine who knew little about horse racing.
In her later teen years, that would all change.
"My parents split up, and I moved down to the Toronto area and finished my last year of high school," Olson recalled. "I worked co-op at a riding barn, which I did for three years. In the third year, I worked for a vet. Through that vet, I got Sunday work with Standardbreds. That was 10 years ago, and here I am now."
Where Olson is, specifically, working as a groom for high-profile trainer Carmen Auciello, a lifetime winner of nearly 1,300 races.
"When I first started out, I was jogging horses for a small operation," she noted. "I basically cleaned stalls and then jogged horses. I started learning to go on Sunday training trips, and I immediately loved those. I ended up breaking a couple of babies, and then it went on from there. I had a lot of great experience working with (veteran horseman) Stephen Gassien, who really helped me out a lot. But (longtime trainer-owner) Roger Ferguson introduced me to Standardbreds.
"I wound up getting a job with Per Henriksen for several months, which was phenomenal, and now I'm working with Carmen. My role is as a groom, but I also do warm-ups for him. It's a job where you get to do many different things, but most importantly, you get to be around the horses."
Something she's also afforded outside the harness racing world.
Olson saddles up as a Quarter Horse exercise rider at Ajax Downs when she's not in the Standardbred sulky.
"I wear a lot of hats," she said with a laugh. "I'm going on to my third season with the Quarter Horses. I like riding. I'm a riding girl to start with. I do like it a lot, and I like learning about horses as much as I can. And that's what is great about this industry. You learn something important every day."
Like embracing the bond between humans and horses.

John Watkins photo 
"Zukav, he was the first Standardbred horse that I broke," remembered Olson of the trotting son of Mr Lavec. "He was just a good, honest horse. The one horse with the biggest piece of my heart, though, is Duke of Donegal."
A trotting son of Duke of York, bred and owned by Roger Ferguson, Duke of Donegal won six races from 51 starts and $101,585 in career earnings.
The bay, who never won a stakes race, was a handful most of the time.
"He was difficult," stated Olson. "But he was just… he was special. He needed a little more one-on-one attention. He had a lot of trust issues for some reason. I never really knew why. He was a wild spirit. When we broke him, he didn't have the best first experience on the bike, and I think that affected him. We were able to jog him, and we thought we could help him with that anxiousness. But he didn't."
Olson was determined not to give up on the Ontario-bred.

Olson and Duke of Donegal 
"I had this crazy idea in my head to start riding him, which completely changed him as a horse. I rode him every day. I trained him under saddle, and he just completely relaxed. Chris Christoforou used to drive him. I'll never forget being in the winner's circle at Woodbine, and I went back to the cart so we could go to the paddock. 'Duke' apparently started following me, and when we got to the paddock, Chris turned to me and said, 'This horse really trusts you.' He would be my heart horse. Funny enough, he kicked me once and sent me to the hospital. There's my favourite horse for you."
Busier than she's ever been, Olson will look to add another role to her horse racing repertoire in the near future.
"I intend to get my trainer's license this summer."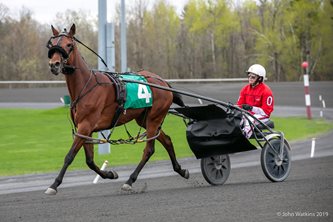 John Watkins photo 
She provided the "crazy horse girl" with even more opportunities to enjoy the life she had always envisioned.
From where Olson stands, it's worked out better than she could have ever hoped for.
"Horses are very easy to fall in love with. They will love you back if you allow them to be part of your world."