Mark Casse Interview Q & A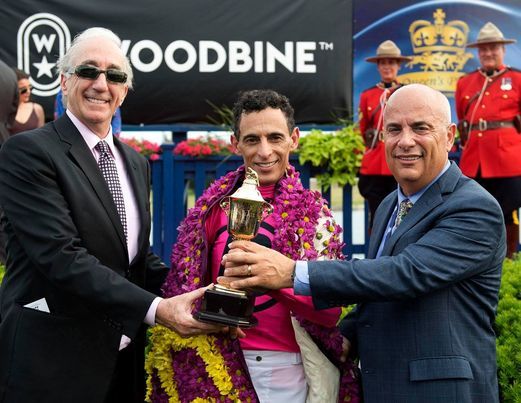 Photo credit: Michael Burns
Original Article – Gate to Wire – Veronica Gizuk
Growing up with a trainer for a father, it's not a surprise Hall of Fame trainer Mark Casse took the same route. All it took was one trip with his father Norman in a horse van to the 1973 Kentucky Derby, where Mark watched Secretariat win and was instantly hooked on racing.
Mark was fortunate growing up and was able to learn a tremendous amount of knowledge from his father. Norman Casse bought and sold horses in Indiana before moving to Ocala, FL, where he founded Cardinal Hill Farm. Norman was a big part of building Florida's breeding and sales industry. He was the chairman of Ocala's Breeders' Sale Co. for 28 years. Norman was one of the people who established the organization in 1974. Mark Casse started training on his own back in 1978 when he was just 17 years old. He sent out his first winner at Keeneland in 1979 named Joe's Coming.
Arguably one of the best trainers in North America, Mark prepares to ship back into Woodbine Racetrack for the upcoming 2021 meet. He has won the Sovereign Award for Outstanding Trainer 12 times and was inducted into the Canadian Racing Hall of Fame in 2016. Over the years, Mark has started some of his best horses at Woodbine. He has won the Queen's Plate twice, in 2014 with Lexi Lou and again in 2018 with Wonder Gadot. He's won the Prince of Wales Stakes four times, in 2009 with Gallant, 2012 with Dixie Strike, 2013 with Uncaptured and 2018 with Wonder Gadot. He also won the Breeders' Stakes in 2007 with Marchfield and in 2018 with Neepawa. Mark has trained five Canadian horses of the Year, Sealy Hill in 2007, Uncaptured in 2012, Lexi Lou in 2014, Catch A Glimpse in 2015 and Wonder Gadot in 2018.
Mark has been dominating the racing scene at Woodbine for quite some time now but has also had significant success in America. On November 19th, 2020, Mark became the 34th trainer in thoroughbred racing history to win 3000 races. Mark and his assistants operate strings in New York, Kentucky, Florida, Louisiana and Canada. Mark has won meet titles at Turfway Park, Keeneland, Woodbine and Churchill Downs. In 2019 Mark won the Big Sport of Turfdom Award, and in 2020 he went on to be inducted into the Racing Hall of Fame. Mark has trained several champions over the years, including four Eclipse Award-winning horses: Tepin, World Approval, Classic Empire and Shamrock Rose. He's won five Breeders' Cup races, including the Fillies & Mare Sprint with Shamrock Rose in 2018, the BC Mile with World Approval in 2017, the 2016 Sentient Jet BC Juvenile with Classic Empire, the 2015 BC Mile with Tepin and the 2015 BC Juvenile Fillies Turf with Catch a Glimpse. Mark trained 2019 Preakness winner War of Will, who now stands at stud, and 2019 Belmont Stakes Winner Sir Winston who is still in training. 
Q: Do you have a favourite horse you've trained?
A: I don't know. I've had so many throughout my career that have done so much for us. I guess maybe Tepin. She is just so special. She was good at two, not so good at three, but good at four and five. She had a great personality to go along with it to.
Q: If you could change something in the industry, what would it be? 
A: I would change the way races are written, have more class type races, ex: A, B, C, D. Right now, we have so many horses that are ready to run that can't because there are no races for them.
Q: How did you feel when Got Stormy sold at the sale?
A: Well, I knew what the reserve was, Gary had told me. Going into the sale, it had been discussed that if Gary didn't sell her, he was going to run her another year. Honestly, Gary had told me what he wanted for her, and they didn't know if they would get it for her. So I thought, well, maybe we'll get to run her another year, but when she went over that reserve, part of my heart sunk a little bit. I was disappointed, and I was with my wife, and she was disappointed. Then 20-30 minutes later, we get a call asking if I'd like to train her for another year. So we went from feeling a little on the depressed side to ecstatic. 
Q: Were you nervous for Got Stormys first race back?
A: A little, not more than usual. I felt very confident that she was ready, so I wasn't all that nervous. I was as confident as you can get. In every race, there's so many things that can go wrong, so you can never be overconfident. The race actually ended up being closer than I thought it would, so thank goodness we came out on the right end of that. That was kind of a rough day. We could have easily won three graded stakes. Spanish Loveaffair won and got DQed, then Olympic Runner ran a heck of a race, getting beat just a head. I think Got Stormy will be bigger and stronger for her next race.
Q: What was it like winning the Preakness with War of Will?
A: It was I don't know, a lot of emotions. We had went through so much in the Derby, looking like maybe we had a shot to win our first Kentucky Derby to the incident; turning for home that could have cost War of Will his life and maybe other horses and even riders. After that race, I was just truly happy he was in one piece. Between the Derby and the Preakness, his feet were bothering him, the Derby was wet, and I think the bottom was pretty hard, so his feet got pretty bruised up. There were times between the Derby and the Preakness that we weren't even sure we'd make the Preakness. So we go from having the emotions from what happened to us in the Derby to fighting with some pretty difficult foot bruising. So it was an up-and-down emotional time. A lot of people said that winning the Preakness was out of revenge. There was never anything about revenge. It was just stratification. War of Will finally got his due respect; that's all that was. I wasn't looking for revenge of any shape or form.
Q: What was it like training Tepin?
A: Well, different parts, at the beginning she always showed that she was special. I would say as things went on, there was more and more pressure every time she ran. You go from having a horse that every time she runs, not just the United States is watching but the whole world. What she was able to do at Royal Ascot at the time, I don't know that I appreciated it as much as I do now. I understand after watching a few years go by and the other horses trying to do it how amazing of a feat it was for her. Take nothing away from, Wesleys had some great victories over there and done very well, but I kind of feel like we went over and beat them at their own game, a mile up the hill. That's not an easy feat. 
Q: What is some advice you would give to young people within the industry?
A: I would say that try to go out and work for somebody that has had some success. You're always going to learn things. I mean, I still learn things every day myself. I think it's nice if you can be around some good horses too and always look at what a good horse looks like. Myself even if I'm not running in a big race, I try to go look at them. A good horse can look like different things, you know, different types of horses, different sires and dams. Work hard and just try to do the right thing. I would say when I was younger growing up; I always felt like I never wanted to just get by when I was with anyone working. I always wanted to give a little bit more than was asked of me. I think in the end that will get you places.
Q: What are your plans with Helium?
A: We're going to go straight to the Derby. Helium had a few different little setbacks. One was the weather at Woodbine, and we had another setback with an ankle. I just got the figures, I do look at beyer, but for the most part, beyer numbers are kind of a generic way/ easy way. I rely on Thoro-Graph. That's what I look at because they take into consideration the time of the race, how fast they run, but also the distance of ground they cover. He ran a 3, so the lower, the better, right now that ranks him about fourth or fifth out of the Kentucky Derby contenders. If you look at his beyer number, you'd say he has no chance, but his beyer numbers aren't a true indication of his abilities. Now given such a big effort over time and history, that type of effort is very taxing on a horse, and it takes them a while to recover. I don't feel like a month is enough time to recover. So we're going to wait and run him in two months, and he's shown his ability in the Tampa Bay Derby to run off the layoff and fresh. So that's what we're going to do. He has earned his way there. That's the good news; he doesn't have to run anymore,he has enough points to run. 
You know I can tell you I've been doing this 40+ years and I think it is or maybe is the biggest race I've won with the amount of difficulty. What I mean by that is not running for four and a half months, never running on dirt, never running two turns and not only that but then being wide on those turns. It is one of the most amazing wins in my career.
Q: What's your favourite track/ race meet?
A: Well, I love Saratoga, and a lot of that has to do with that I've been going there since I was a little boy. So I love Saratoga, I love Churchill Downs as well for the Derby. In my opinion, if you ask me for the best place overall to race, the best training facility Woodbine wins easily. The reason for that is we're so fortunate. I don't think a lot of people understand how fortunate we are that we have the tapeta, which I love, we also have a training dirt course, and we have the best turf course in North America. You throw all that together and then just to add a little cherry on top except with maybe March and December; the weather is great. Horses love cold/cooler weather. Even on a warm day in Toronto, it usually cools off at night, and horses love that, and they thrive with that. So to me, Woodbine has it all. 
Q: How does it make you feel knowing that you've brought so many young people into this sport and have them around good horses?
A: Well, I'm proud of that. We probably have 10 people that have been with us for over 25 years or so. I have Mitch Downs, who's been with me for 40+ years, David Adams been with me for a long time, same with kathryn. I like bringing young people in; you find me someone who loves horse racing like I love horse racing. Sometimes I can't always do it, but I do try hard to help young people who want to get in the game. I have my son Norman who's started on his own. We have Jamie Begg, who just went out on his own. I'm very proud of Nick Tomlinson. He has a lot of ties to Woodbine. Nick came to me, I want to say 6 or 7 years ago, and I told my wife Tina that I met a young man today, he came to me and asked me for a job. I told her I think he's going to be a superstar. I gave Nick a lot of praise for Helium's victory, and I mean that because Nick did a wonderful job with Helium.